This Whole 30 Chorizo Sausage Breakfast Skillet is loaded with veggies and flavor. Perfect to make ahead for quick breakfasts during the week or a fancy weekend brunch. Top with a fried egg and breakfast is served!
I feel like you're either a breakfast person or you're not. And honestly, I would have to say I'm not much of a breakfast person and I never have been. Growing up, I would please my parents with a bite of toast or sip of a smoothie and be fine until lunch. Now, I love to enjoy my bulletproof coffee throughout the morning.
Don't get me wrong, I LOVE breakfast foods. Give me all the paleo pancakes, omelets, and scrambles. Just give them to me for lunch or dinner!
My husband is the total opposite. He is a complete breakfast for breakfast lover and thinks having it at any other time of the day is craziness. He loves hearty breakfasts, especially if they include meat and eggs.
This whole 30 chorizo sausage breakfast skillet is the perfect compromise for us both. He loves it for breakfast topped with an egg or in a tortilla smothered in hot sauce, and I love to set it aside for lunch either as is or topping a salad. It is that versatile and delicious.
I also love how quick and easy it comes together, how well it saves, and how easy it is to bulk prep. I will often double or triple this recipe for my husband to take on shift with him and he's set on breakfast for a couple days!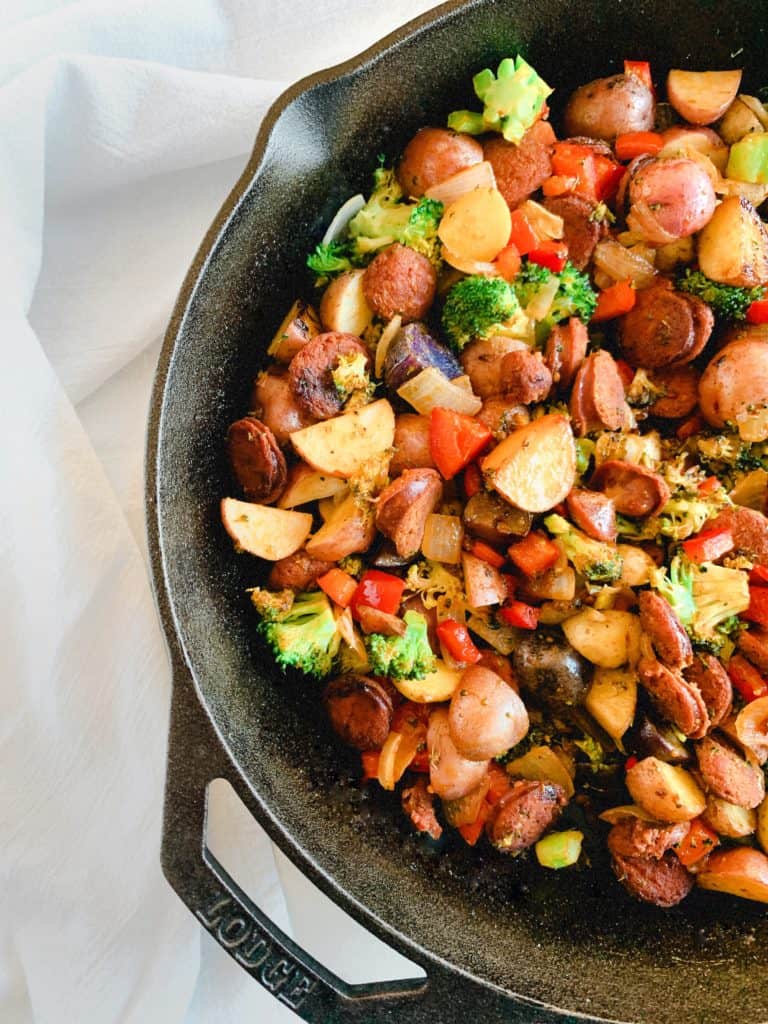 What's in it?
This recipe is so adaptable to what you like! Feel free to swap veggies in or out for what suits you and your taste buds!
Whole 30 Compliant Chorizo - Silva Sausage is my favorite compliant brand - I can always find it at Whole Foods
Avocado Oil
Potatoes - I like to use the small potato medley potatoes and quarter them.
Bell Pepper
White or Sweet Onion
Broccoli
Garlic Powder
Onion Powder
Salt & Pepper
Eggs - if desired for topping
Green Onions - if desired for topping
Throw It All Together
This all comes together so quickly! Chopping the veggies will take you longer than cooking it up. But who doesn't love chopping veggies?! Suuuurely I can't be the only one who finds it therapeutic. Or can I?
You'll add the oil, potatoes, bell pepper, onions and spices to a pan and sauté until the potatoes are soft, but not fully cooked. You don't want them turning to mashed potatoes before everything is done!
Then you'll add the broccoli. While all of the veggies are cooking, you'll brown the chorizo. I like to do this in a separate pan, as I like to really get them browned and the slightest bit crispy. YUM!
Cut the chorizo into ¼" coins and cook for a couple minutes on each side. Then add chorizo and the juices to the veggies. Allow it to cook for a couple more minutes on low so all the delicious flavors can marinate together.
That's it, you're done!
Toppings and Serving Suggestions
The options with this dish are truly endless!
As I mentioned above, we love to top with a fried egg. My hubby also loves to make a breakfast burrito, or taco, out of it by adding scrambled eggs and hot sauce and rolling it up in a tortilla.
OR top with some avocado and green onions. I also enjoy eating it over greens for a lunch or dinner.
See…. endless! However you enjoy it, I'm sure it will become a family favorite!
Be sure to tag me on instagram @cateandcokitchen if you make it!
And if you're looking for more Whole 30 meals, check out my Whole 30 spicy sweet potato chili!
XO,
Emilee
[lt_recipe name="Chorizo Sausage Breakfast Skillet" prep_time="10M" cook_time="20M" total_time="30M" difficulty="Easy" print="yes" image="https://theprimitivedish.com/wp-content/uploads/2016/06/IMG_9414-225x300.jpg" ingredients="11oz whole 30 compliant chorizo sausage;1 tbsp avocado oil;2 cups potatoes, cubed;1 large red bell pepper, diced;½ large sweet or white onion, diced;2 cups broccoli, chopped;1 tsp garlic powder;1 tsp onion powder;Salt and pepper, to taste;Eggs, optional;Green onions, optional" ]Add oil, potatoes, bell pepper, onions, and spices to a pan and saute until potatoes are softened but not fully cooked.;Add broccoli and allow to continue cooking.;In a separate pan add chorizo, cut into ¼ in coins, and brown on both sides.;Add chorizo to vegetables and continue cooking on low for another couple of minutes.;Top with fried egg and green onion, if desired, and enjoy![/lt_recipe]