If you're a BBQ lover, chances are you know all about the delicious flavor the robust tri-tip and whole brisket provide. Tackling their tough muscle fibers may seem daunting, but once mastered, their unrivaled flavor profile is a treat to your taste buds. Wondering about the main differences between these beef cuts? I'm going to break it down for you here!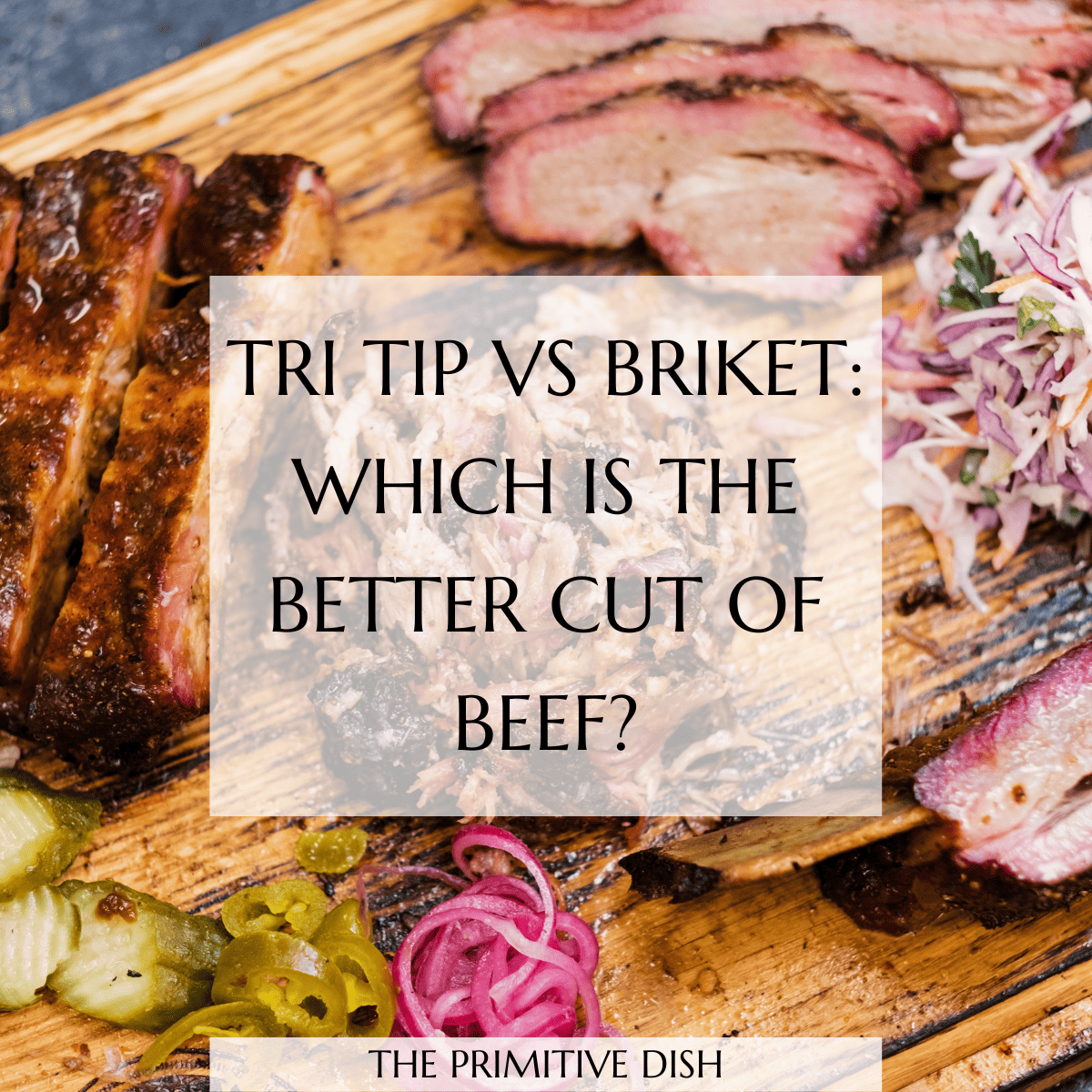 Jump to:
What is Tri-tip?
Often known as "Santa Maria steak" or "California cut," tri-tip is a lean yet flavorful beef cut hailing from the lower part of the sirloin. Its name stems from its unique triangular shape and its placement in the tensor fasciae latae muscle. This cut, also referred to as a Newport steak or triangle roast, typically tips the scale between 3-5 pounds.
When it comes to the flavor profile, tri-tip puts up a solid fight against other more famed cuts. This cut sports a deep, beefy flavor that's reminiscent of a lean steak. Its modest marbling and low fat content lends a subtly buttery taste that pairs well with a variety of seasonings and marinades. Despite its lean nature, it maintains its juiciness when cooked just right.
Prepping a tri-tip roast or steak doesn't demand much work, and it being a smaller cut of meat implies that its cooking time is notably less than a heftier cut like a brisket. The best way to handle a tri-tip is to sear it over high heat initially, sealing in those juices, then round it off at a low temperature to ensure the interior cooks to your preferred level of doneness.
Compared to other cuts like brisket or chuck roast, tri-tip might be a tad difficult to track down in some areas, particularly outside of California. However, its tenderness, flavor, and versatility have been turning heads and it's gradually becoming a preferred choice for any barbecue or dinner party.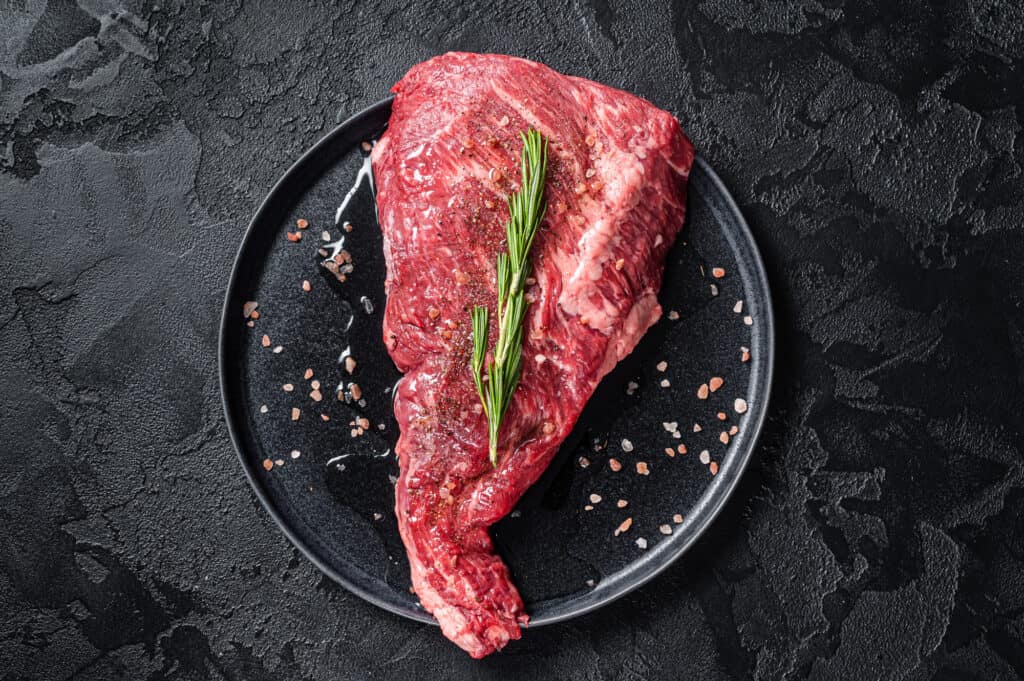 What is Brisket?
In the world of beef cuts, brisket comes from the lower chest or breast section of the cow. Given the robust nature of this region, brisket houses a generous amount of connective tissues and tough muscles, making it a notably tough cut of meat if not prepared with due care. In terms of size, a whole brisket can tip the scales from 10 to 20 pounds, which makes it considerably larger compared to a tri-tip.
Brisket is acclaimed for its distinctive, profound beefy flavor. Retaining the fat cap during the cooking process rewards you with a deep, buttery flavor that permeates the meat, while ensuring it remains moist throughout the slow cooking journey. If smoked, the brisket develops an enticing "bark" on the exterior— a delectable crust that's a delightful mix of smoke, spices, and patient cooking.
Brisket has carved out a significant place for itself in the realm of barbecue as one of the most popular cuts of meat. Often taking center stage in traditional American BBQ, most notably in Texas-style smoked barbecues. Because of its inherent toughness, brisket demands a long, slow cooking process at a low temperature to soften the connective tissues. This unhurried approach yields a tender, melt-in-your-mouth cut of meat that's unquestionably worth the wait.
It's also important to note, there are typically two main sub-cuts of brisket you might come across at the butcher's or grocery stores: the flat cut and the point cut. The flat cut, also known as the first cut, is leaner and slices neatly, making it a preferred choice for traditional brisket dishes. The point cut, on the other hand, boasts a higher fat content and is prized for its rich flavor and tenderness.
Whether you're keen on smoking, braising, or slow roasting it, brisket is a versatile cut that can offer ridiculously flavorful results. Yes, its large size and the time needed to cook it properly may seem a bit intimidating, especially if you're a brisket novice. But believe me, the final product is more than worth the effort.
Tri Tip vs Brisket
Setting tri-tip and brisket side by side, it becomes easier to understand which cut may suit your palate, cooking style, and needs better. Here are the main differences between the two cuts of beef :
Size and Shape
A tri-tip cut is a more petite cut of meat, typically weighing between 3 to 5 pounds. It stands out with its unique triangular shape. Brisket, on the other hand, is a hefty cut that can weigh between 10 to 20 pounds, and has a flatter shape compared to the tri-tip.

Location on the Cow
​Tri-tip is found on the cow's rear, tucked into the bottom sirloin butt. Brisket, however, comes from the lower chest or breast area.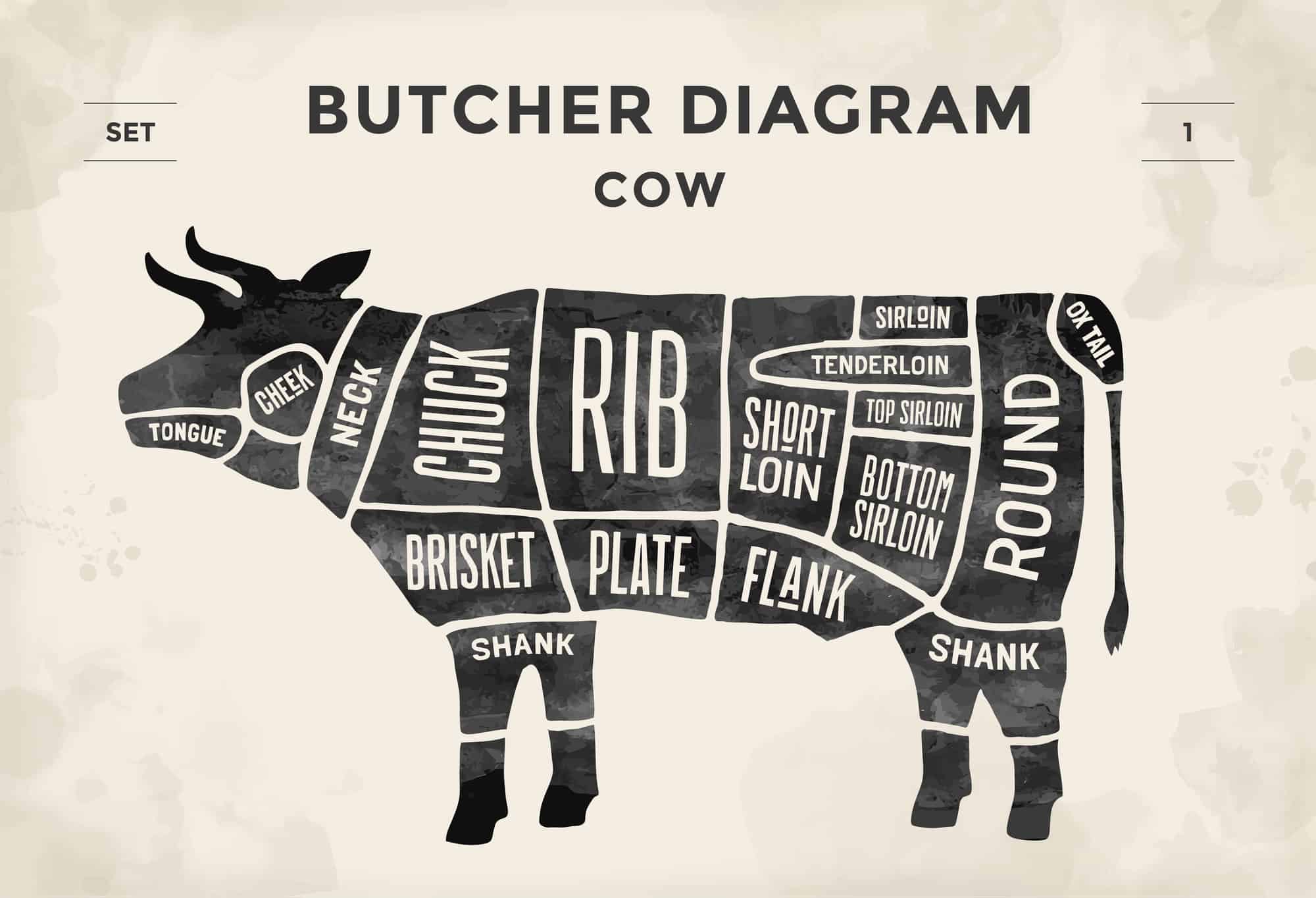 Disclaimer: Please note, some of the links on this page are affiliate links and I will earn a commission if you purchase through one of those links. I personally own and use every product recommended and love them enough to share with you.
Flavor Profile
Tri-tip offers a rich, buttery, and beefy flavor, much like a leaner steak. Where as brisket is known for its more intense and robust beef flavor. When smoked, brisket develops a delicious crust or "bark"— a feature that many BBQ lovers well…. love.

Cooking Method and Ease of Cooking
​As a smaller and leaner cut, tri-tip is typically seared over high heat before being finished off at a lower temperature. It is typically a much easier cut of meat to perfect.
Brisket, on the other hand, being a larger and tougher cut, calls for a slow and low cooking process to make sure it's perfectly tender. While it's a relatively hands-off process compared to tri-tip, it certainly takes longer and is seen by many as a more advanced cut of meat to smoke.
Cost and Availability
Tri-tip generally costs more per pound compared to brisket and might be a bit trickier to find, especially outside of areas like California.
While brisket is more affordable per pound, because it is substantially larger in size, the total cost can be higher. Yet, brisket is widely available and can be found in most places, especially in regions renowned for their BBQ.
Fat Content and Texture
Tri-tip is a lean cut of beef with minimal fat but, when cooked properly, it delivers a juicy, tender steak-like bite. Brisket has more fat, especially in the point cut, while the flat cut is leaner. When cooked correctly, brisket becomes incredibly tender, with a melt-in-your-mouth texture.
Your preferred cut—tri-tip or brisket—will eventually depend on your taste preferences, cooking style, time availability, and budget.
Butcherbox is a meat delivery service that delivers organic and free-range chicken, 100% grass-fed beef, wild caught seafood, and humanely raised pork straight to your door! We used this service for over five years before becoming affiliates and want to spread the word because we LOVE having a freezer full of delicious and high quality meats and we know you will too!

Click here to see the latest Butcherbox offer!
How To Prepare Tri-Tip
Direct Grilling: This is your classic, straight-up grilling method using high heat, perfect for tri-tip's smaller size. Start with your tri-tip at room temperature, seasoned to your preference. Sear it over high heat on your pellet grill, then shift to a lower heat area for a more controlled finish. Monitor your meat thermometer to avoid overcooking - medium-rare typically hits the sweet spot.

Indirect Grilling: This method is akin to oven-roasting but with the added benefit of smoky flavors. Here, your tri-tip is cooked adjacent to the heat, not directly over it. You'll need to maintain a consistent grill temperature and close the lid for the best results. It's an excellent way to guarantee an even, slow cook with a tasty smoke-infused flavor profile.

Reverse Searing: For a steakhouse-quality tri-tip, consider the reverse sear. This process involves cooking the meat on a grill's cooler side until it's almost at your preferred temperature. Then, move it over to the high heat zone for a quick sear to form that delicious crust. The benefit here is improved control over the internal temperature, yielding a uniformly cooked and juicy piece of meat.

Try this reverse seared tomahawk steak for another delicious meal.

Smoking: If you own a smoker or an electric smoker, your tri-tip is in for a treat. Smoking imparts an intense depth of flavor to the meat, with the wood chips adding a unique character. It's a slower cooking process that results in beautifully tender, smoky tri-tip. Popular wood choices for tri-tip include oak, hickory, or mesquite.

Rotisserie Cooking: If your grill has a rotisserie attachment, it's a fantastic way to get an evenly cooked, juicy tri-tip. The constant rotation ensures uniform heat exposure, and the dripping fat bastes the meat as it cooks, enhancing flavor and tenderness.

The Santa Maria Style: Hailing from California, this method involves grilling tri-tip over red oak wood, often on an open pit. This tradition gives the tri-tip a distinct, smoky flavor that pairs perfectly with its rich, beefy taste.
A couple things to keep in mind is that you have to let your tri-tip rest on a cutting board for at least 10 minutes before digging in. This step allows the juices to redistribute throughout the meat, making it even more tender and delicious.
And second, to serve, slice it against the grain, this way, you're cutting through the muscle fibers, making the meat easier to chew.
How To Smoke Brisket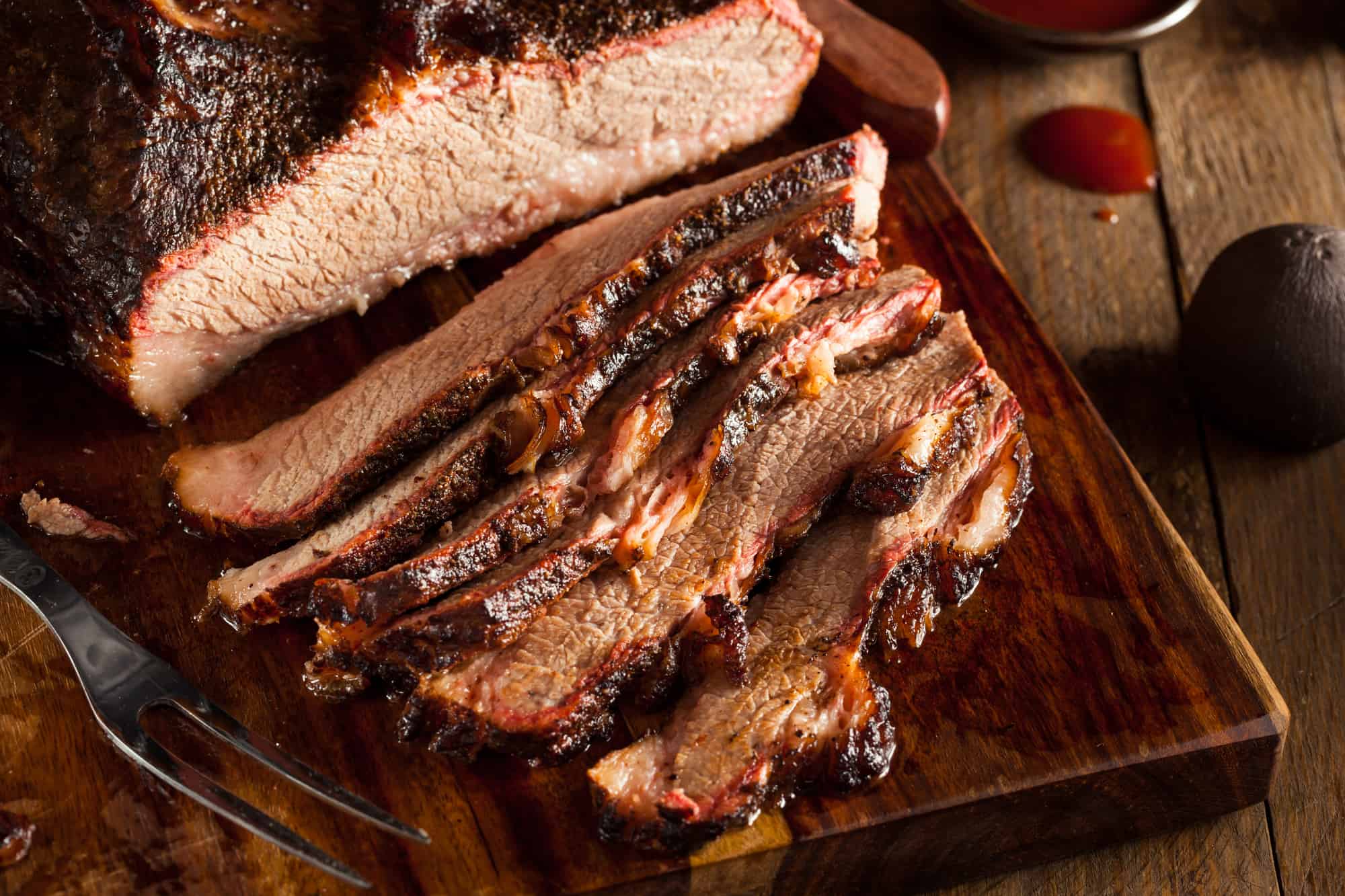 The Classic Low and Slow Method: The most tried-and-true method for smoking beef brisket is the low and slow technique. Set your smoker or pellet grill to a low temperature (225 to 250 degrees F), add your preferred wood chips for smoke, and let that brisket cook for a long period of time (think up to 1-2 hours per pound of meat). This approach allows the fat and connective tissues in this large cut of meat to slowly melt away, leaving you with tender, flavorful meat and that dreamy, crispy bark on the outside.

The Texas Crutch: If you're in a bit of a time crunch or want to ensure your brisket doesn't dry out, try the Texas Crutch method. Smoke your brisket as usual until it hits the "stall" (around 150 degrees F internal temperature). Then, wrap it in aluminum foil or butcher paper, and continue to smoke until it reaches the desired internal temperature. The wrapping traps moisture, speeding up the cooking process and keeping the meat moist.

Hot and Fast Method: A faster alternative to traditional low and slow smoking, this method cranks up the heat to shorten cooking time dramatically. Set your smoker or pellet grill to a higher temperature (around 325 to 350 degrees F). While you'll need to keep a closer eye on your meat and potentially baste it to prevent it from drying out, this technique can yield a delicious brisket in less time.

The Burnt Ends Technique: This method calls for separating the point cut from the flat cut after the initial smoking process. You then return the point cut to the smoker to develop those richly caramelized, deeply flavorful "burnt ends" that are often considered the best part of the whole brisket.
Remember, whatever smoking technique you choose, a reliable digital meat thermometer is going to be your best friend. It will help you track the internal temperature of the brisket, ensuring you pull it out at just the right moment for maximum juiciness and tenderness.
After smoking, you'll want to allow your brisket to rest for a good amount of time before slicing into it to allow the juices to redistribute.
Checking for Perfectly Cooked Brisket and Tri-tip
The ideal internal temperature for a perfectly cooked brisket sits at 190-200 degrees F. Although it might technically be done at 180 degrees F, letting it hit the higher temperature tends to yield a more tender texture.
On the other hand, the internal temperature for tri-tip hinges on your personal preference for doneness. If you prefer a medium rare finish, remove your tri-tip at 125-130 degrees F, or let it cook longer if you prefer a medium or well-done result. Just remember to use a meat thermometer inserted into the thickest part of the cut to get an accurate reading:
Medium Rare: 130 to 135 °F
Medium: 135 to 145 °F
Also keep in mind that as the meat rests it will continue to cook so I recommend removing it from heat when it's about 5 degrees from your desired doneness.
The Best Occasion for Tri Tip and Brisket
Casual Weeknight Dinners
For a quick but delicious dinner, the tri-tip is a great choice. Since it's a smaller cut, it doesn't require as much time to cook compared to a full brisket. You can quickly grill a tri-tip for a meal that's both easy and satisfying, perfect for a weekday dinner.
Special Occasions or Dinner Parties
If you're hosting a dinner party or celebrating a special occasion, the brisket can be a showstopper. Due to its larger size, it's an excellent option to feed a big crowd. Just remember you'll have to start the cook up to 12-18 hours before, depending on the size.
If you're curious about how much brisket to smoke, check out my post on How Much Brisket Per Person.
Barbecues and Cookouts
Both brisket and tri-tip shine when it comes to barbecues or cookouts.
Tri-tip: The relatively shorter cooking time and the ability to slice it into individual pieces make it perfect for a barbecue. Guests can enjoy a steak-like experience with the added smoky flavor from the grill.
Brisket: If you've got more time and want to showcase your smoking or slow-cooking skills, a whole brisket will certainly impress. The extended cook time of a brisket is a commitment, but the tender, flavorful results are so worth it!
Health-Conscious Meals
For a leaner, healthier meal, the tri-tip is the better choice. This cut is lower in fat compared to brisket but doesn't compromise on flavor. Serve it with a side of smoked grilled veggies or smoked asparagus for a well-balanced meal.
Ultimately, both cuts can be versatile and can cater to a range of tastes and occasions. Whether you choose a brisket or a tri-tip, it's all about the preparation and cooking process to make the most out of these delicious cuts of beef.
So, which is the better cut of meat?
Honestly, I don't think there is a clear winner here. The choice hinges on your personal preference, timing, and occasion.
Tri-tip, with its quick cooking time and lean, beefy flavor, is perfect for a casual dinner. Brisket on the other hand, requires more time and patience but yields a deep, smoky flavor that's unbeatable for larger gatherings and traditional BBQs.
Both cuts of meat offer delicious BBQ experiences and taste profiles. Whether it's a tri-tip or a slow-smoked brisket, both are sure to please any dinner or barbeque guests!
More Posts You Might Like