These Whole30 side dish recipes are not only easy and delicious but they are also made with real ingredients and with so many options there is something for the entire family! From vegetable sides to potato dishes and salads there is sure to be something perfect for family gatherings or your next summer bbq.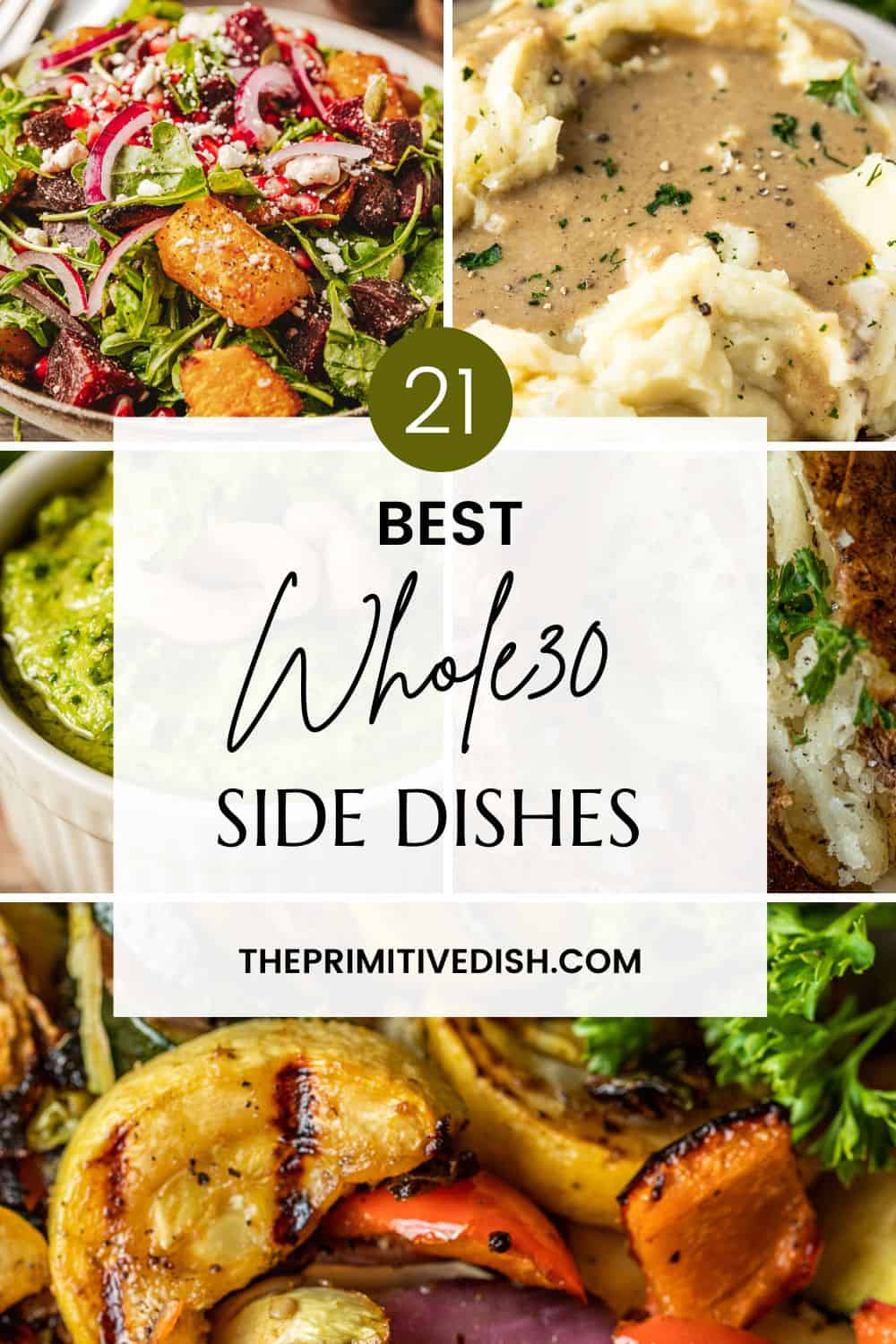 Jump to:
Whole30 Veggie Side Dishes
These delicious side dishes take traditional veggies like roasted broccoli and green beans to the next level! These sides are packed with flavor and go well with countless entrees.
One of my favorite veggie dishes because of how versatile and flavorful it is! You can swap out the veggies for your family favorites, yet still get a yummy dish full of smoky flavor!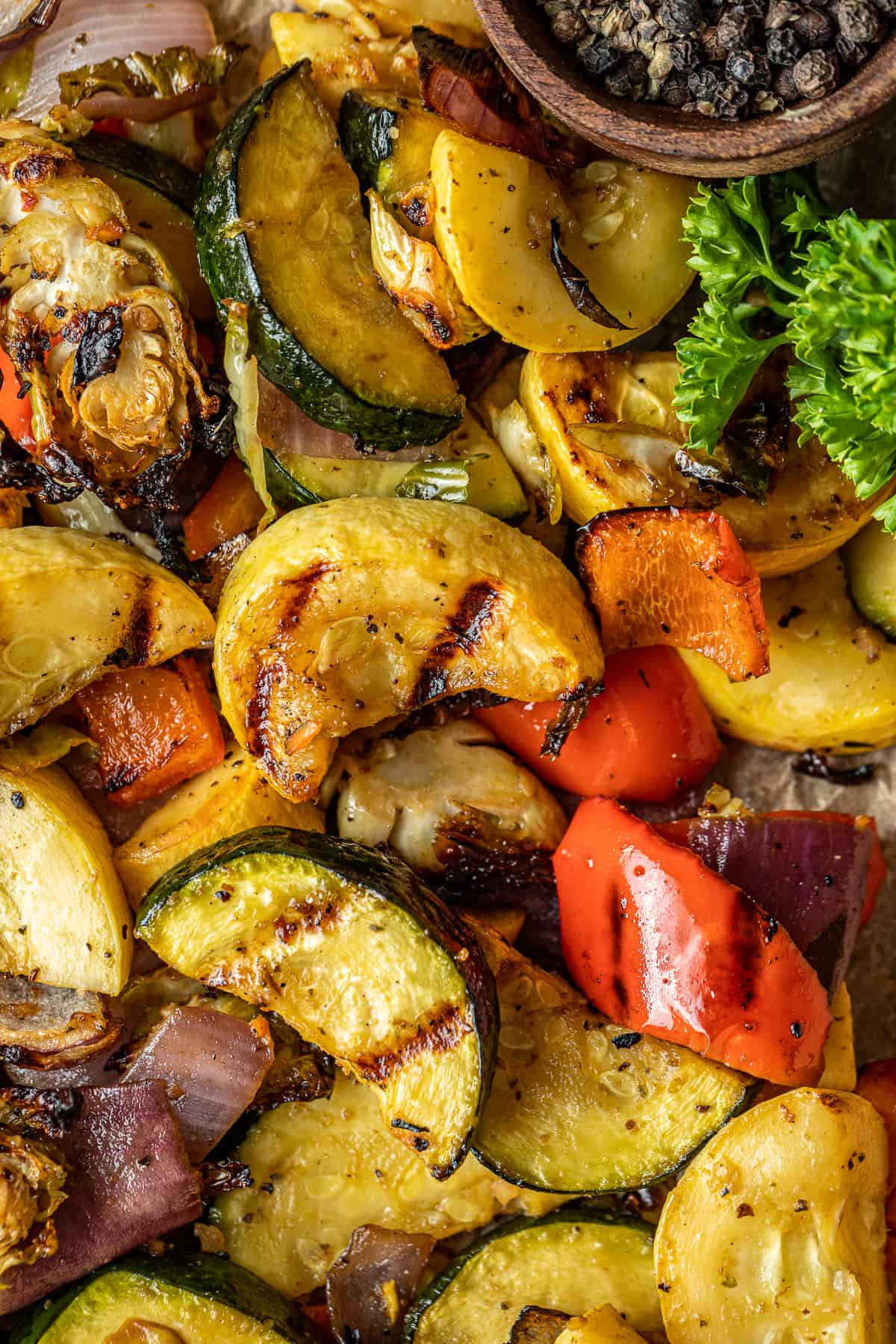 A true match made in heaven! This one-pan dish is full of flavor from simple ingredients and makes a great addition to your holiday menu.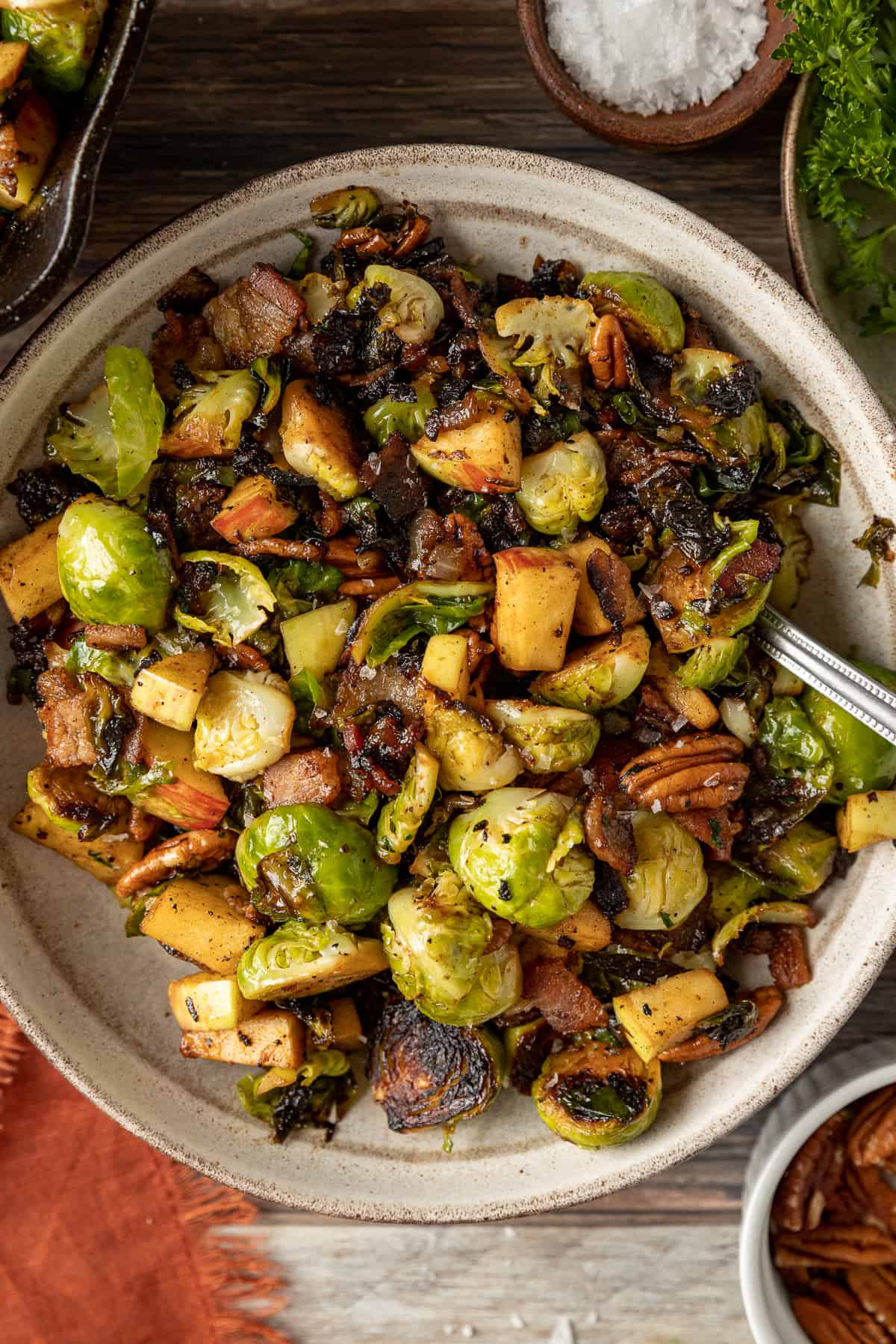 This is a dish my entire family love - kids included. The marinaded and grilled asparagus is slightly crispy and then topped with zesty lemon and spices. Omit the parmesan to keep this dish dairy free.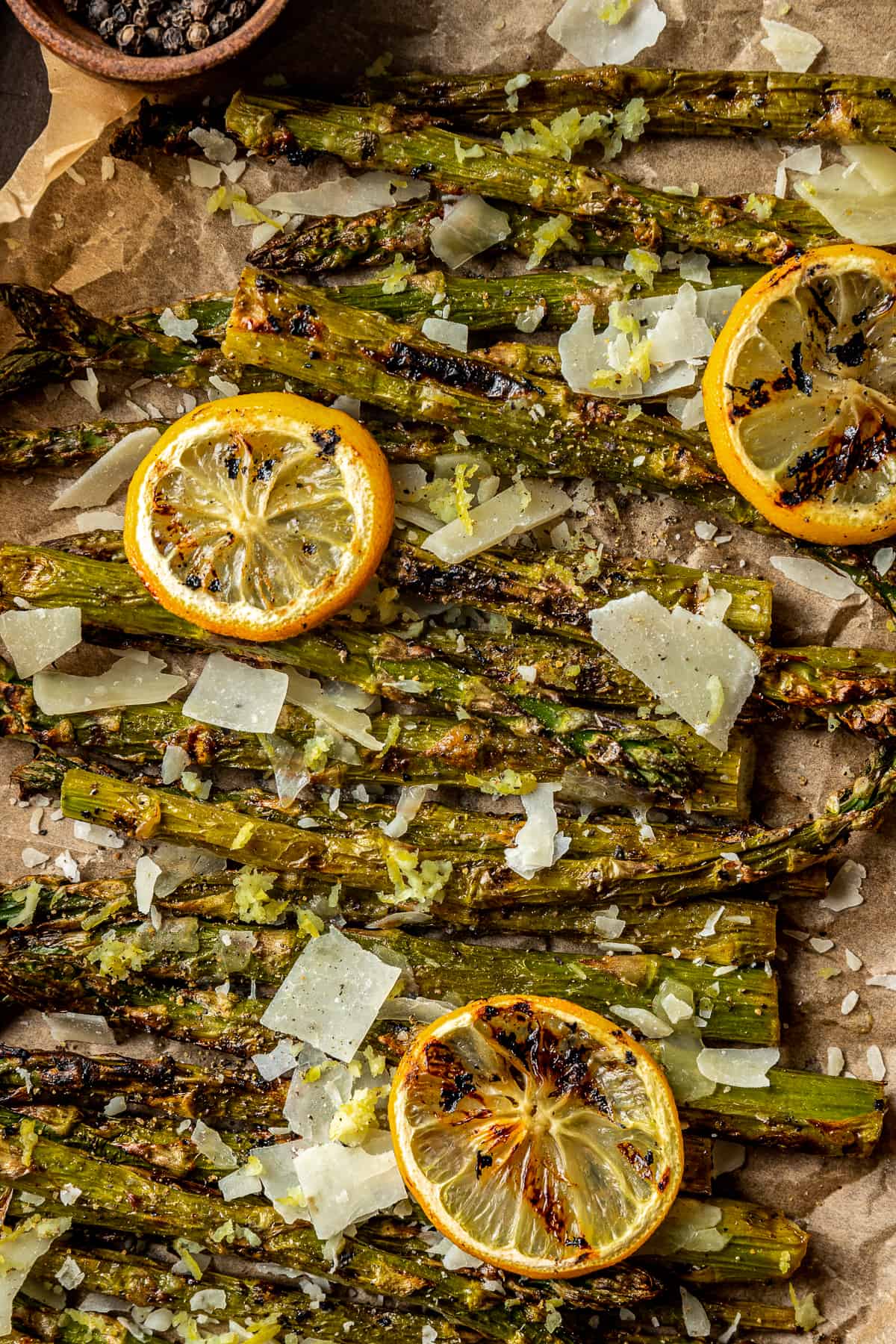 Hands down my favorite way to prepare cauliflower. It's quick and easy to cook and is perfectly spiced. 
This coleslaw is a Whole30 summer side dish staple! Simply add all ingredients to a large bowl and it's ready for your next barbeque.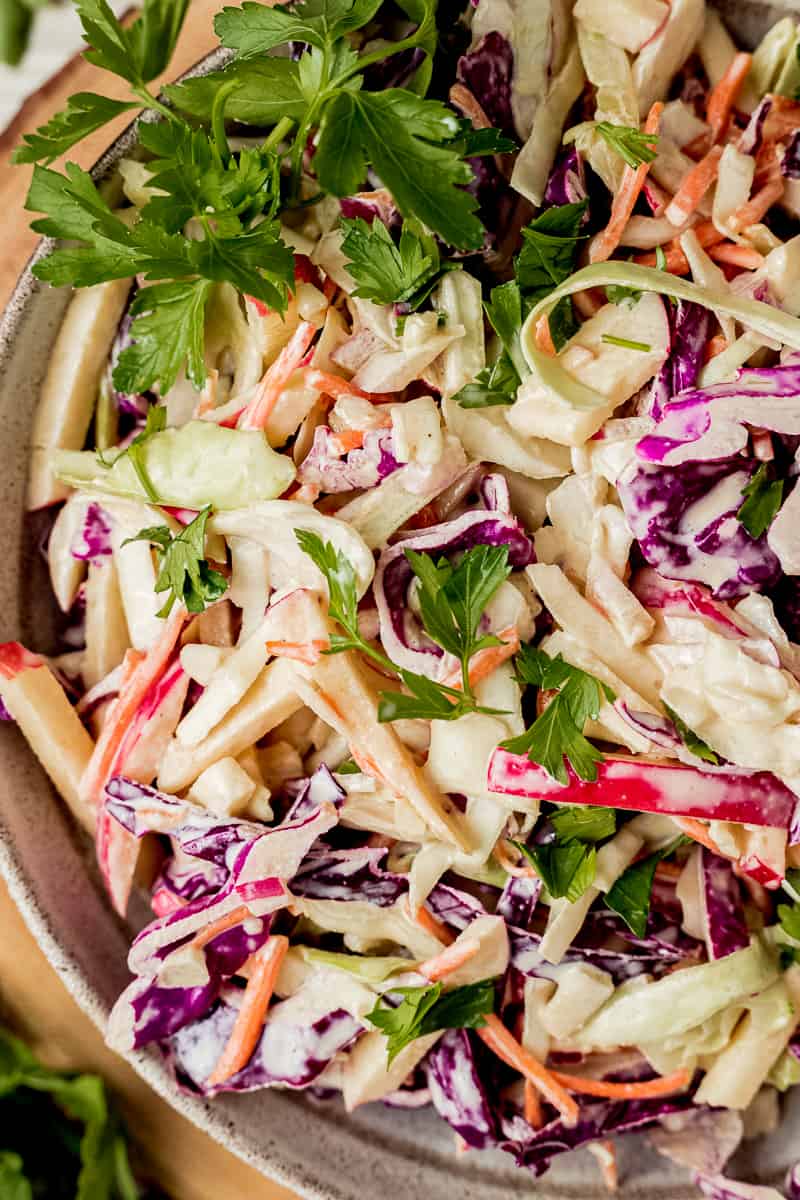 Whole30 Potato Dishes
Who doesn't love potato dishes? They're versatile and filling and make a perfect addition to many occasions. Before we get to the recipes, I must answer one of the most popular debates in the Whole30 and paleo community 
Are white potatoes whole30 compliant?
All potatoes, including white potatoes, are Whole30 compliant. Whether or not white potatoes are paleo compliant has been debated for years which has caused confusion as to whether or not they're allowed on a Whole30 diet. 
Although white potatoes were certainly around when our ancestors roamed, the high starch content can raise blood sugar quickly. Because of this, they have not always been recommended in the paleo diet. 
They are becoming more and more accepted in a paleo and primal diet and are great to enjoy in moderation - as with everything! 
Back to it with my favorite potato sides: 
These smoked baked potatoes make a fun twist to a classic side!  Baked potatoes go well with everything and can even be stuffed with your favorite protein (or this Whole30 chili) for a complete meal!  Another favorite way to have these baked potatoes is with this Reverse Sear Smoked Tomahawk Steak.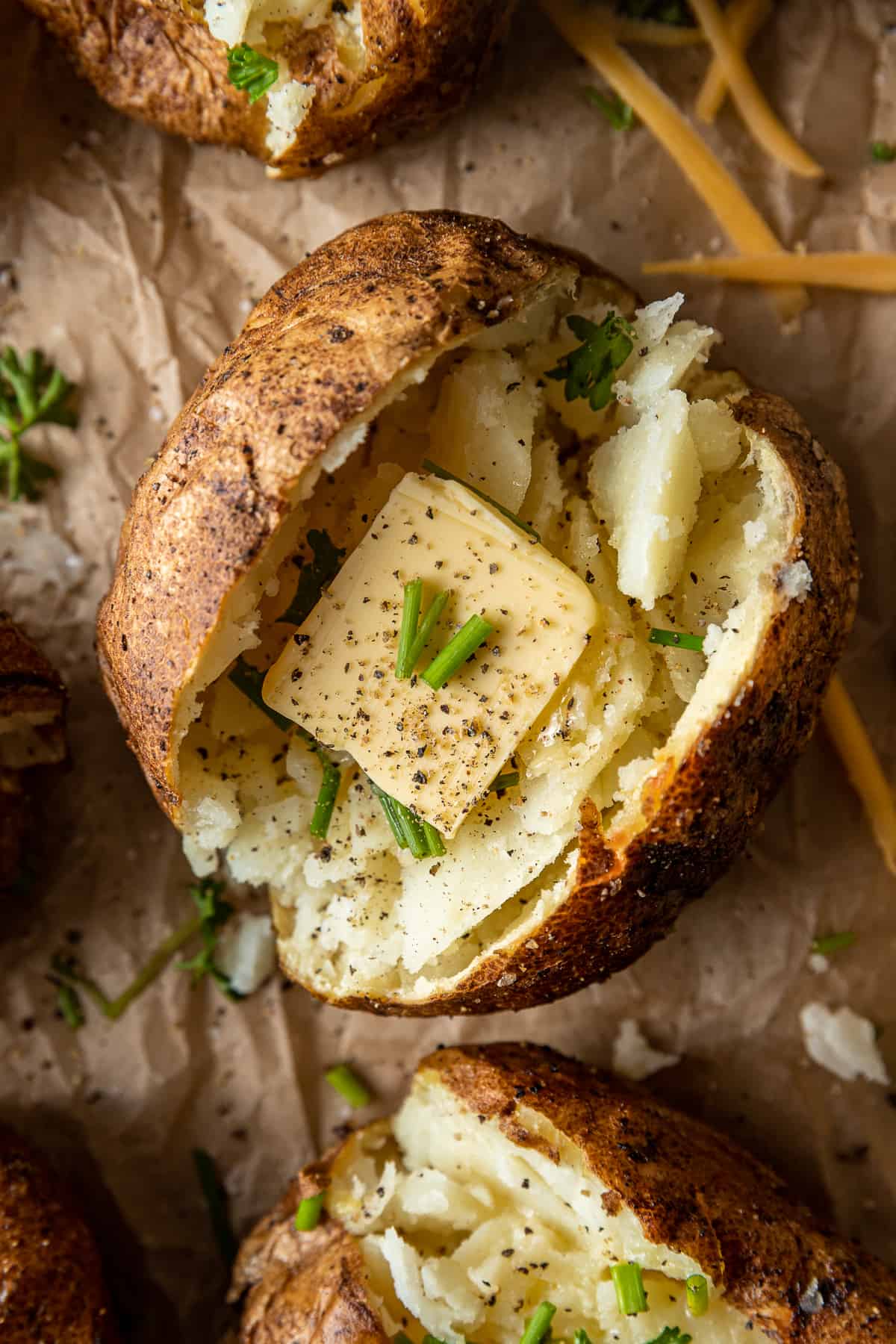 Creamy and delicious, these dairy-free mashed potatoes make a great side dish, especially for your healthy holiday menu!  They get their perfectly buttered flavor from Whole30-approved ghee.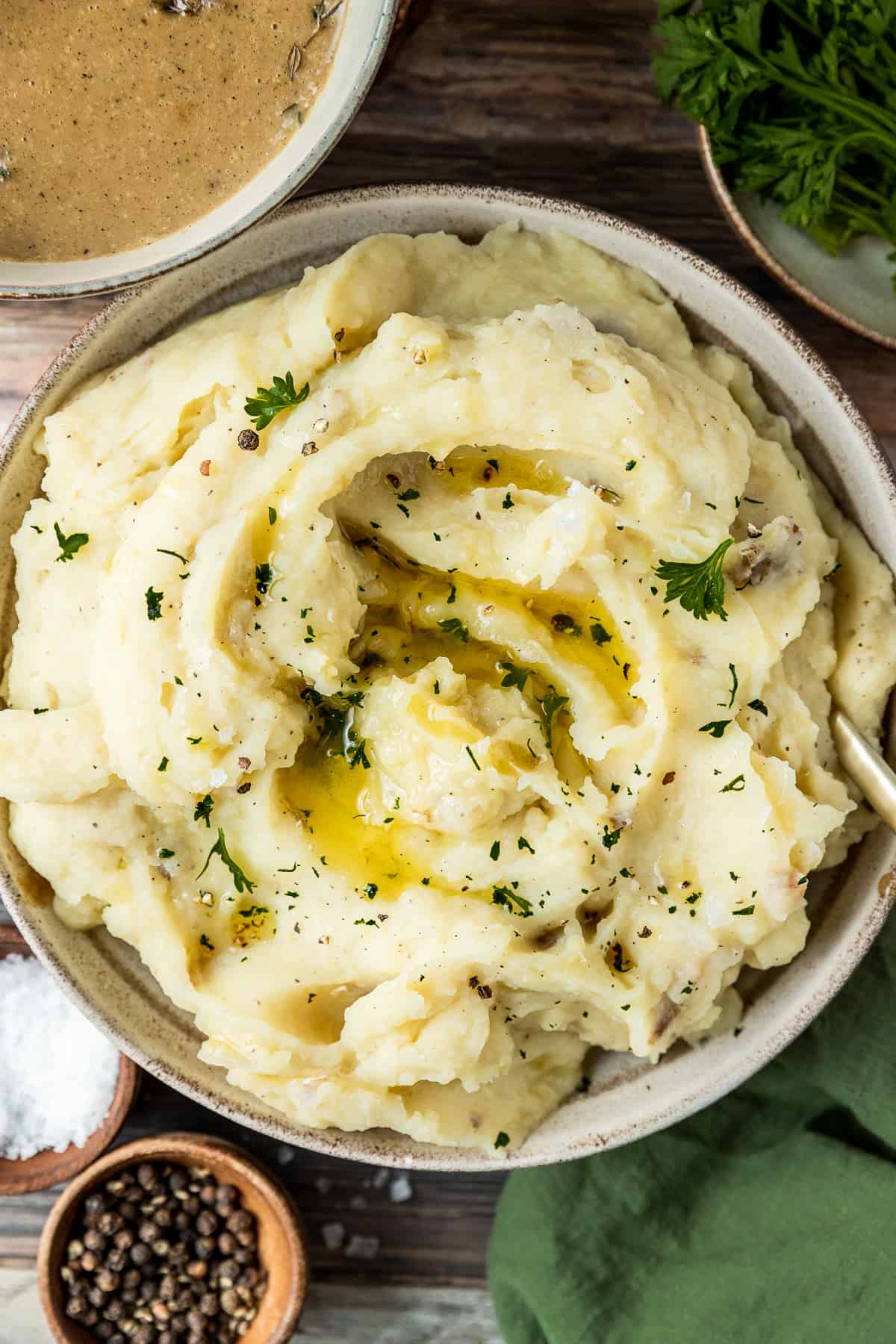 This is one of our most popular side dish recipes because it's easy, delicious, and versatile!  We love using Japanese sweet potatoes and stuffing them with this Instant Pot Buffalo Chicken. 
I'm almost embarrassed to admit how often we make this recipe during the summer, but it's that good! There are so many flavors and textures from the red potatoes and bacon to the red onions and creamy buffalo ranch dressing - this is a summer side must!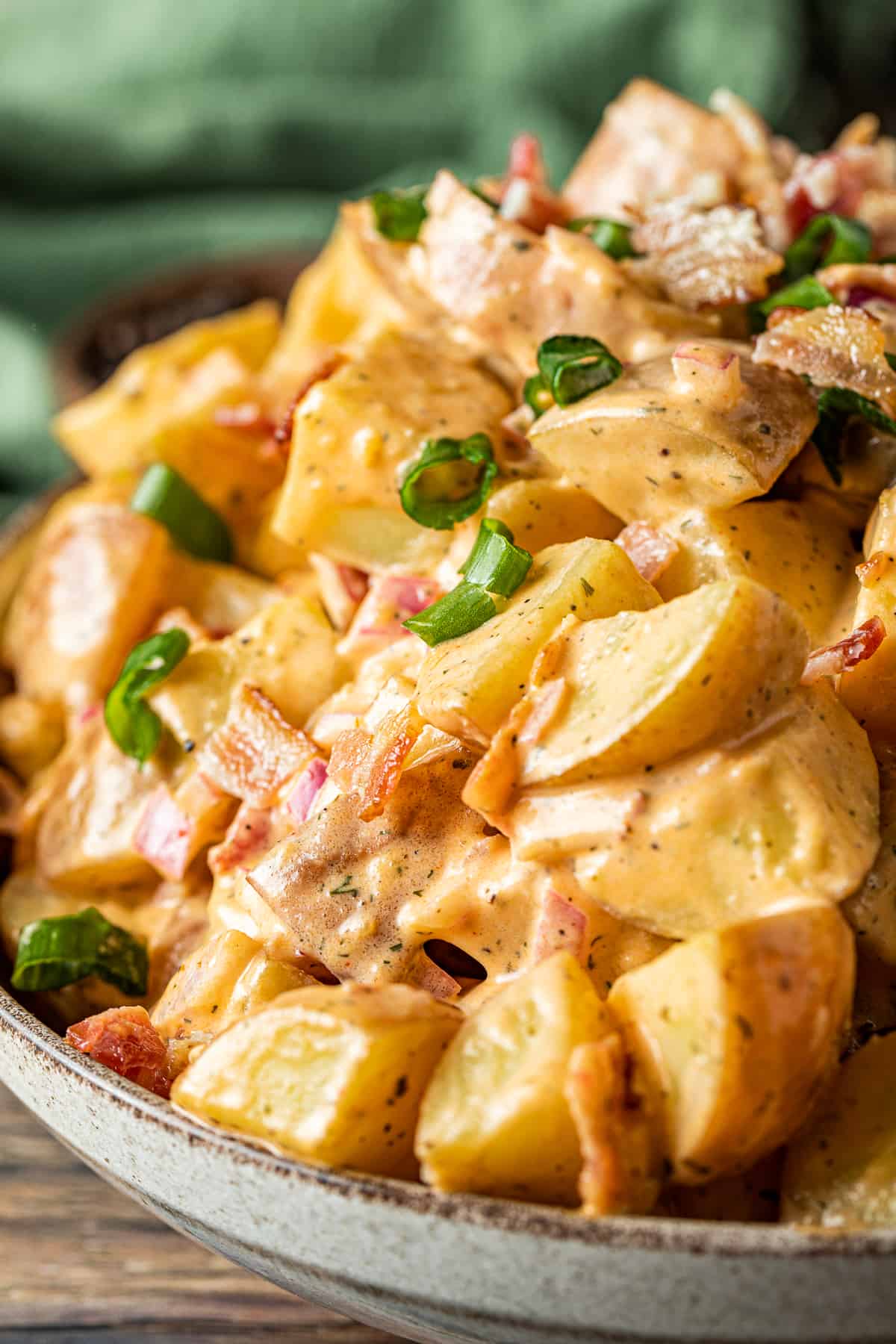 Like the Whole30 mashed potatoes, these sweet potatoes are a great versatile side dish great for weeknight meals or holidays!  The instant pot makes them hands off and cleanup is a breeze. 
These make a delicious alternative to your favorite potato fries! They are perfectly seasoned and have so much flavor. Crispy on the outside and tender on the inside, what more can you ask for with baked french fries?
Whole30 Salads
This salad is not only beautiful but it is SO good!  It makes a great year round salad and is perfect for special occasions.  It's packed with fresh whole ingredients and topped with a Whole30 date and dijon mustard dressing that everyone will love.
Another summertime healthy side dish, this broccoli salad is always a big hit at get-togethers!  Slightly sweet and slightly savory, this vegetable salad is also quick and easy to make.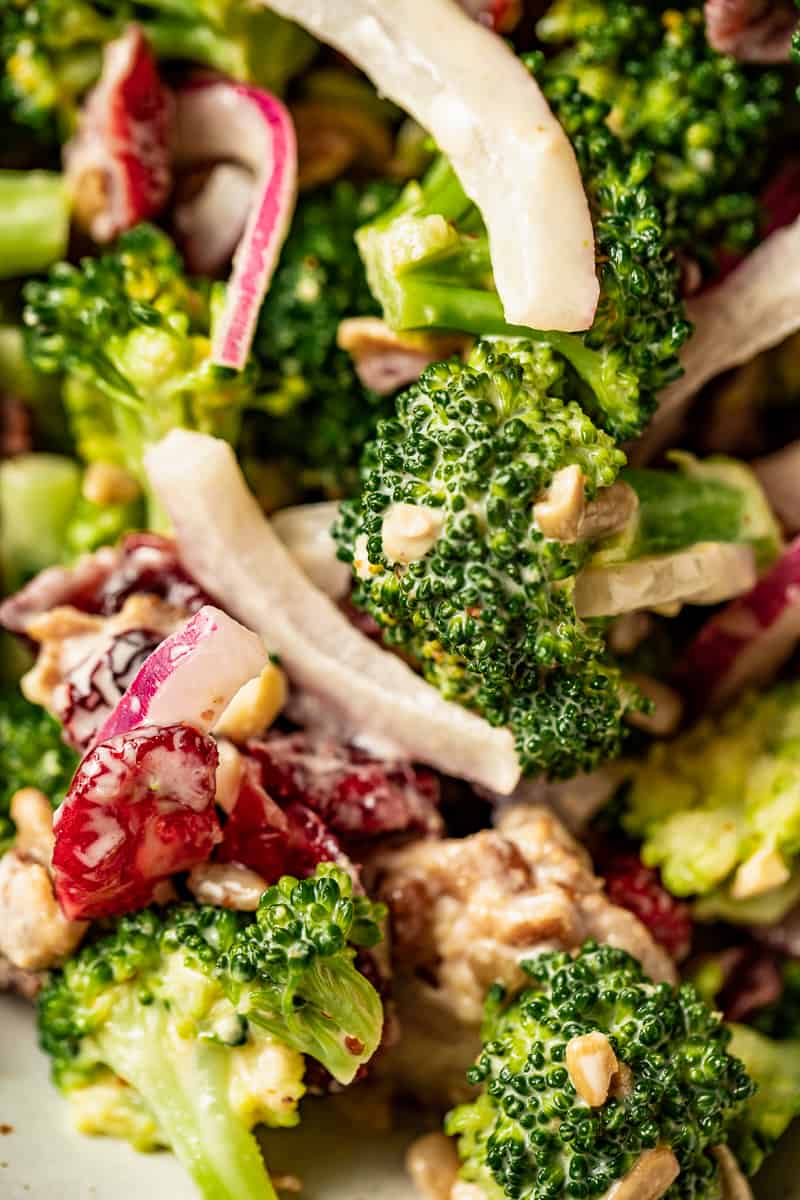 Whole30 Condiments
These Whole30 and paleo condiments make great additions to any meal.  I love using sauces  and condiments to liven up recipes - everything from simple protein like chicken and salmon to egg dishes and salads.
I can truly eat this pesto straight off a spoon.  Made with cashews, basil, and spinach it has such a slightly sweet and fresh flavor that goes well with so many dishes.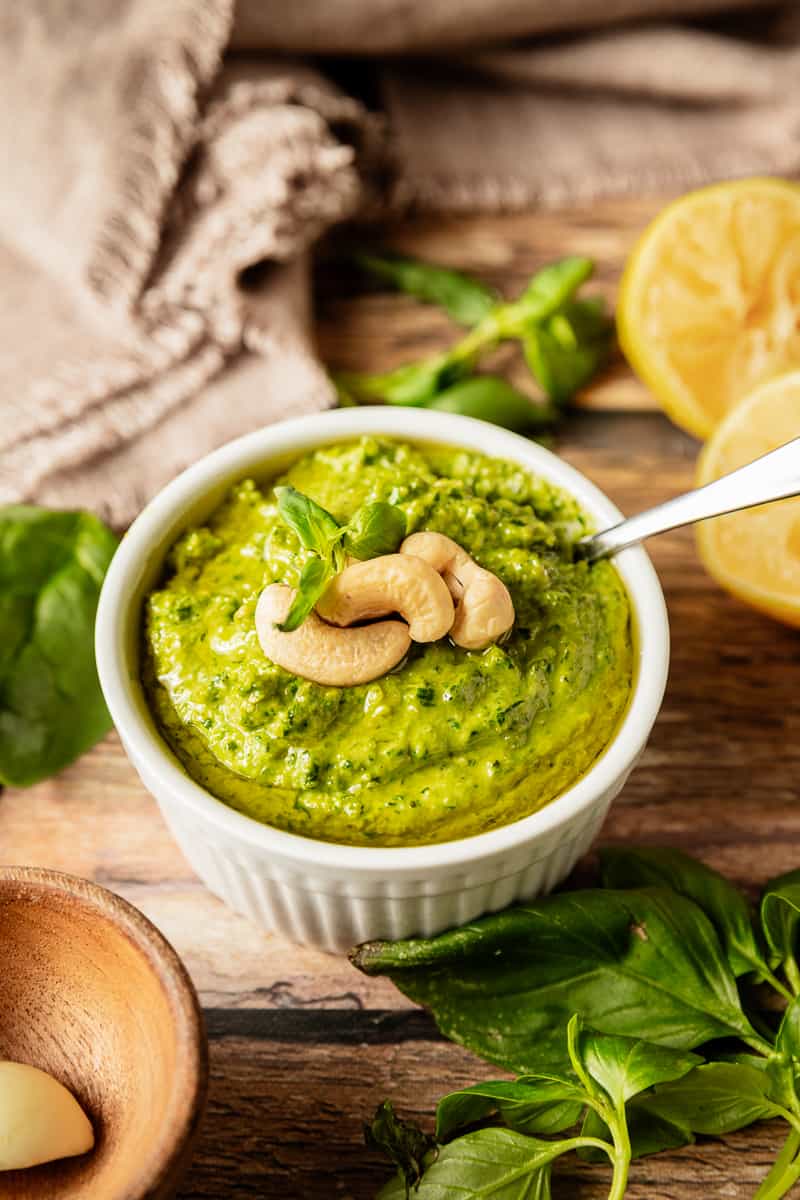 This gluten free and soy free teriyaki sauce is without a doubt my kids' favorite condiment.  This recipe uses coconut aminos as a soy sauce alternative and is sweetened naturally with dates.  
A sweet and spicy salsa that is made with only a couple simple ingredients. I love serving this on tacos and this Traeger Grilled Salmon.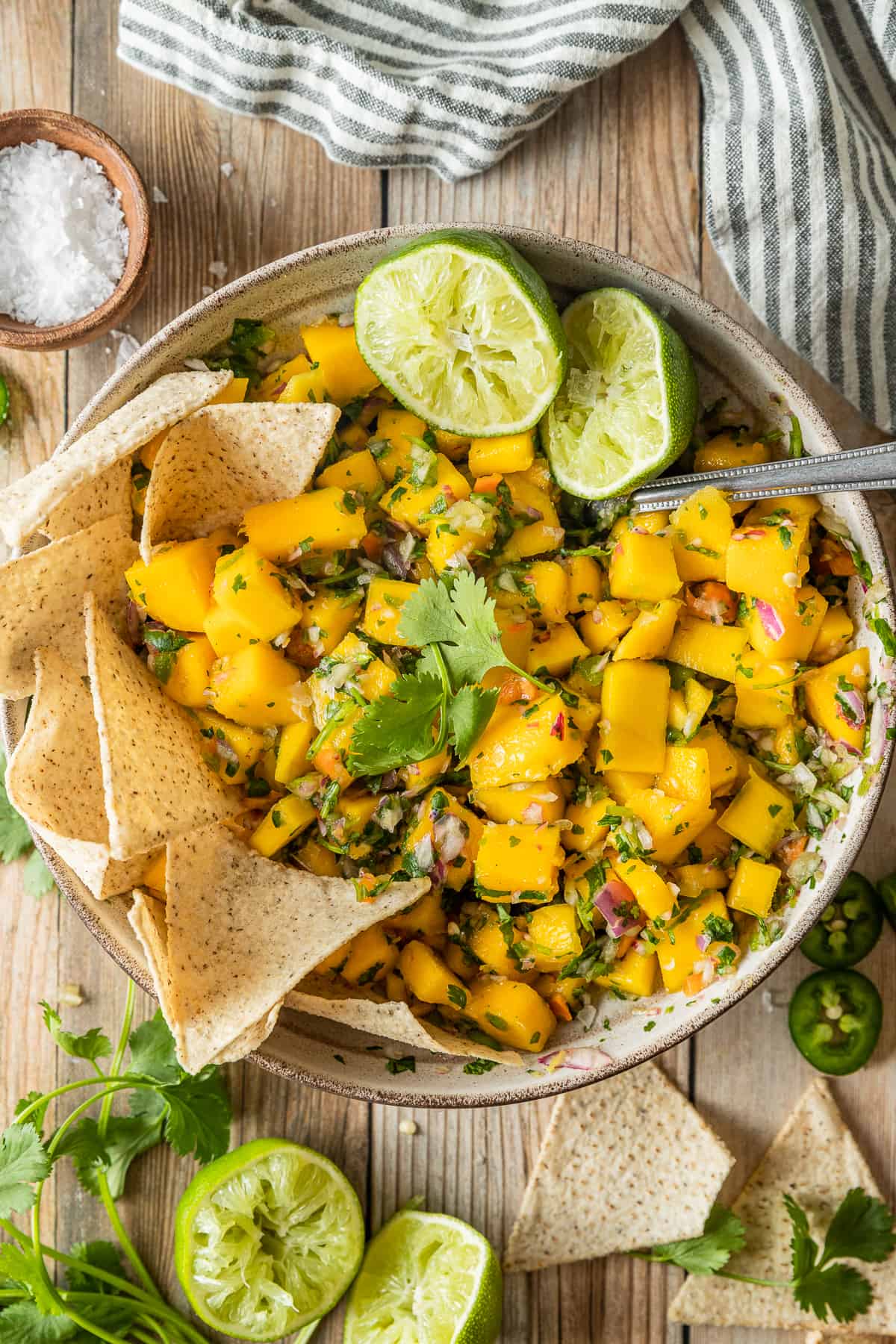 A delicious gravy that is perfect for these Whole30 mashed potatoes.  It's gluten-free, dairy-free, and takes only 5 minutes to make!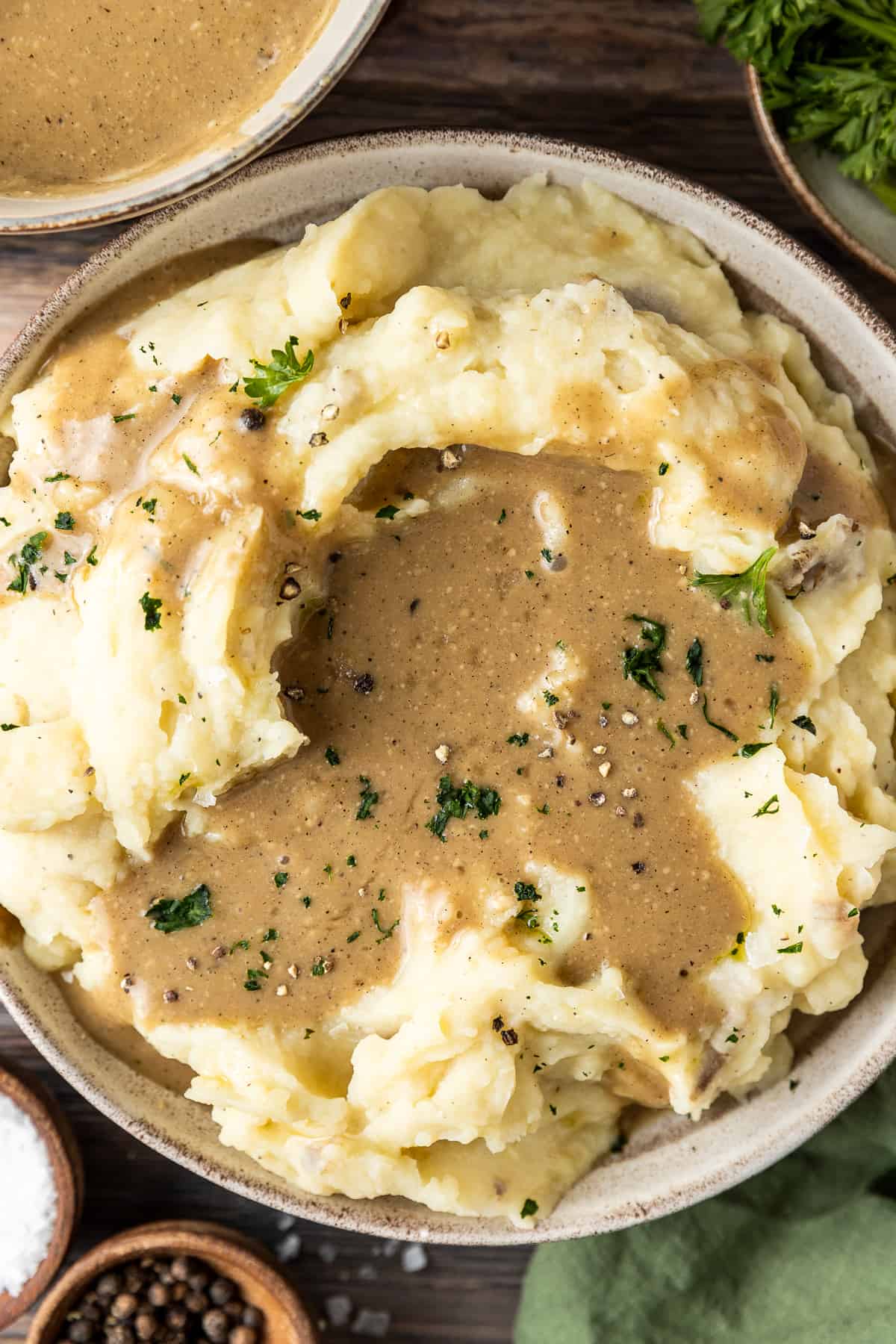 This is a great Whole30 dressing to always have in the fridge.  Not only is this tangy dressing perfect for salad, but I often use it to marinade veggies before grilling or air frying them. 
Another classic salsa recipe that offers so much flavor!  This recipe makes a lot and is perfect to make for a crowd or to store in mason jars in the fridge to add to a variety of dishes. 
Whole30 Appetizers
These Whole30 recipes not only make great side dishes but appetizers as well!  I often make these recipes for potlucks and parties and they are always a hit. 
If you're a fan of hard-boiled eggs, you will LOVE these smoked deviled eggs with bacon. These eggs are filled with a classic creamy filling and topped with bacon crumbles and fresh herbs making them the ultimate whole 30 appetizer.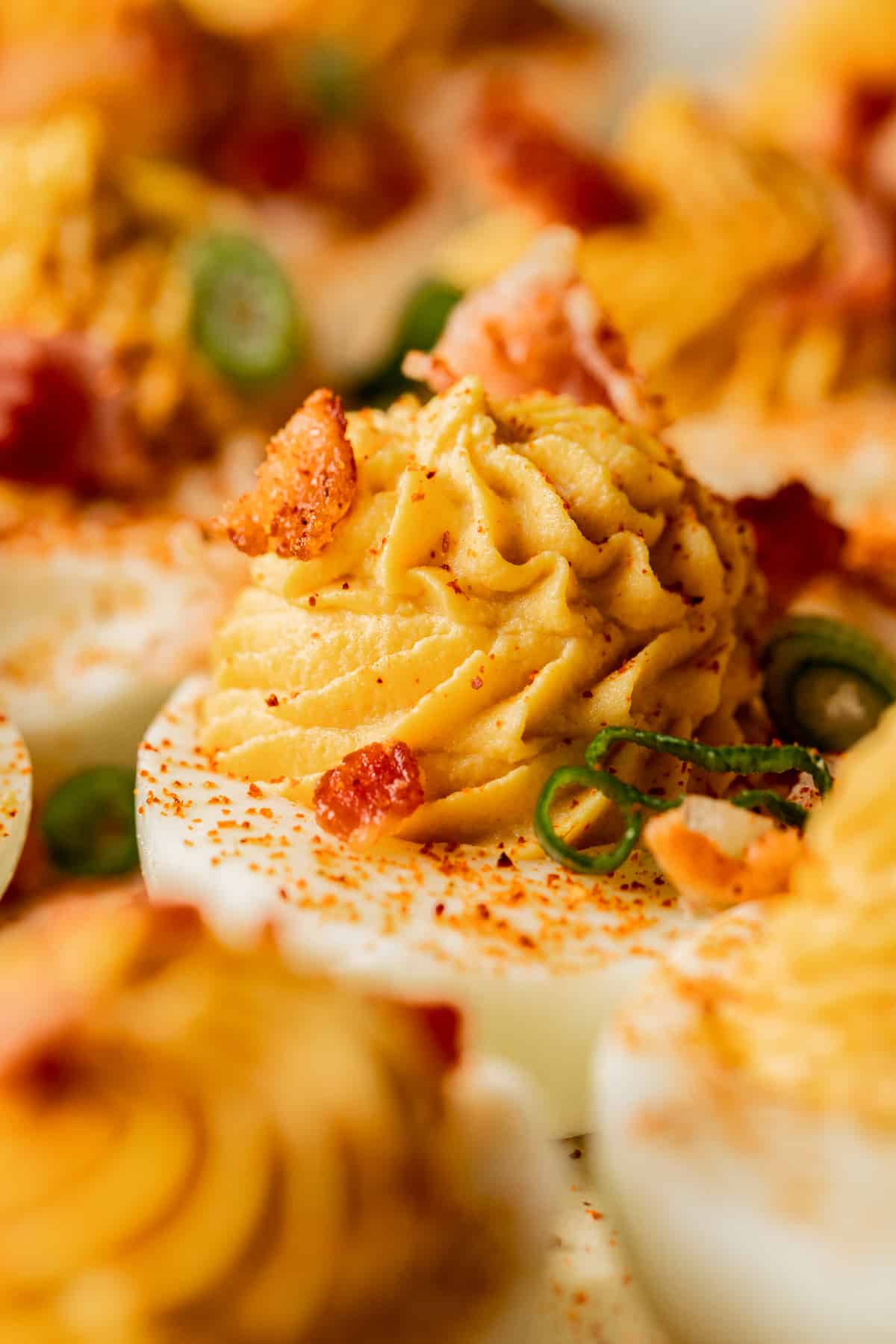 These bacon-wrapped asparagus bundles make a great side dish or finger food appetizer. Asparagus and bacon make another delicious pair and are a great way to break any clean eating food boredom.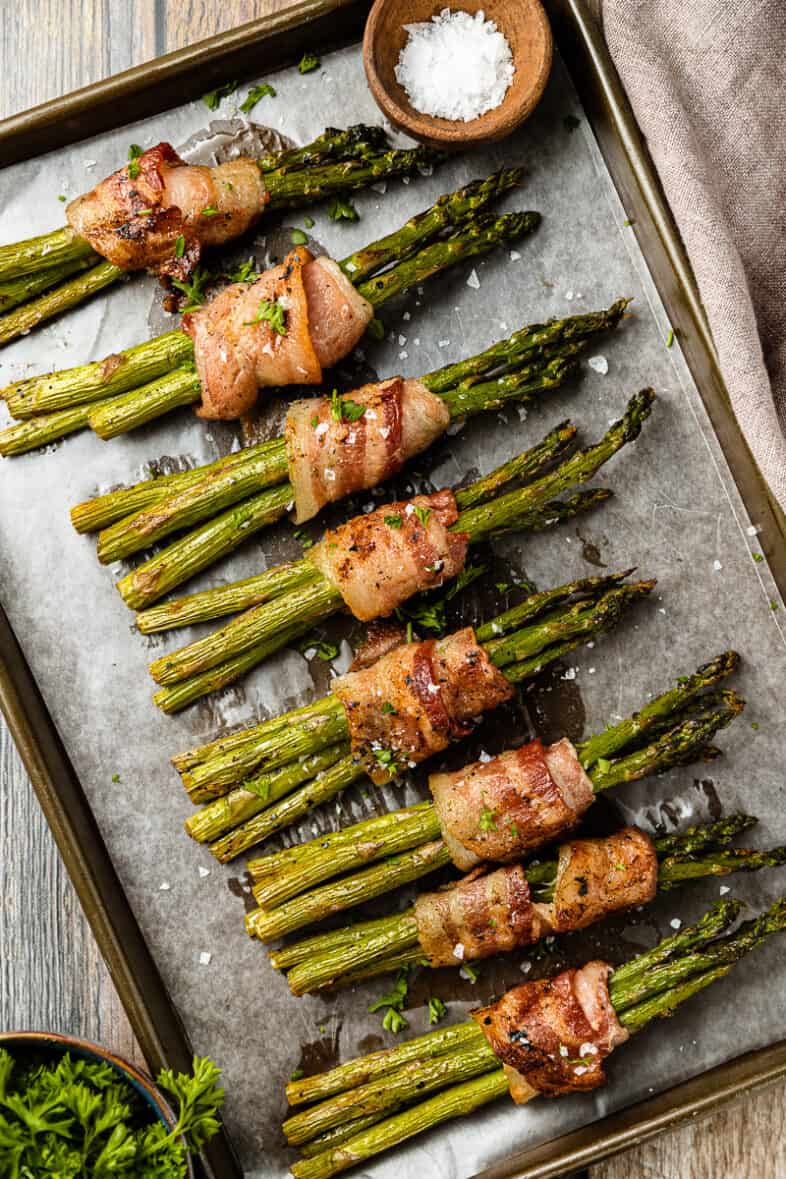 Disclaimer: Please note, some of the links on this page are affiliate links and I will earn a commission if you purchase through one of those links. I personally own and use every product recommended and love them enough to share with you.
Whole30 Main Dishes
Now that you have an entire list of the 21 best Whole30 side dishes, what do you serve them with?  Here are some of my favorite paleo diet protein sources that are great options for meal prep and perfect to serve with any one of the above side dishes! 
Butcherbox is a meat delivery service that delivers organic and free-range chicken, 100% grass-fed beef, wild caught seafood, and humanely raised pork straight to your door! We used this service for over five years before becoming affiliates and want to spread the word because we LOVE having a freezer full of delicious and high quality meats and we know you will too!

Click here to see the latest Butcherbox offer!