If you are a fan of Traeger smokers you will definitely benefit from this list of the best pellet grill accessories. Whether you own a Traeger Grill or another brand pellet grill, you will find that investing in these essential tools will transform your grilling game. These Traeger accessories also make great gifts for the grilling and smoker enthusiast in your life!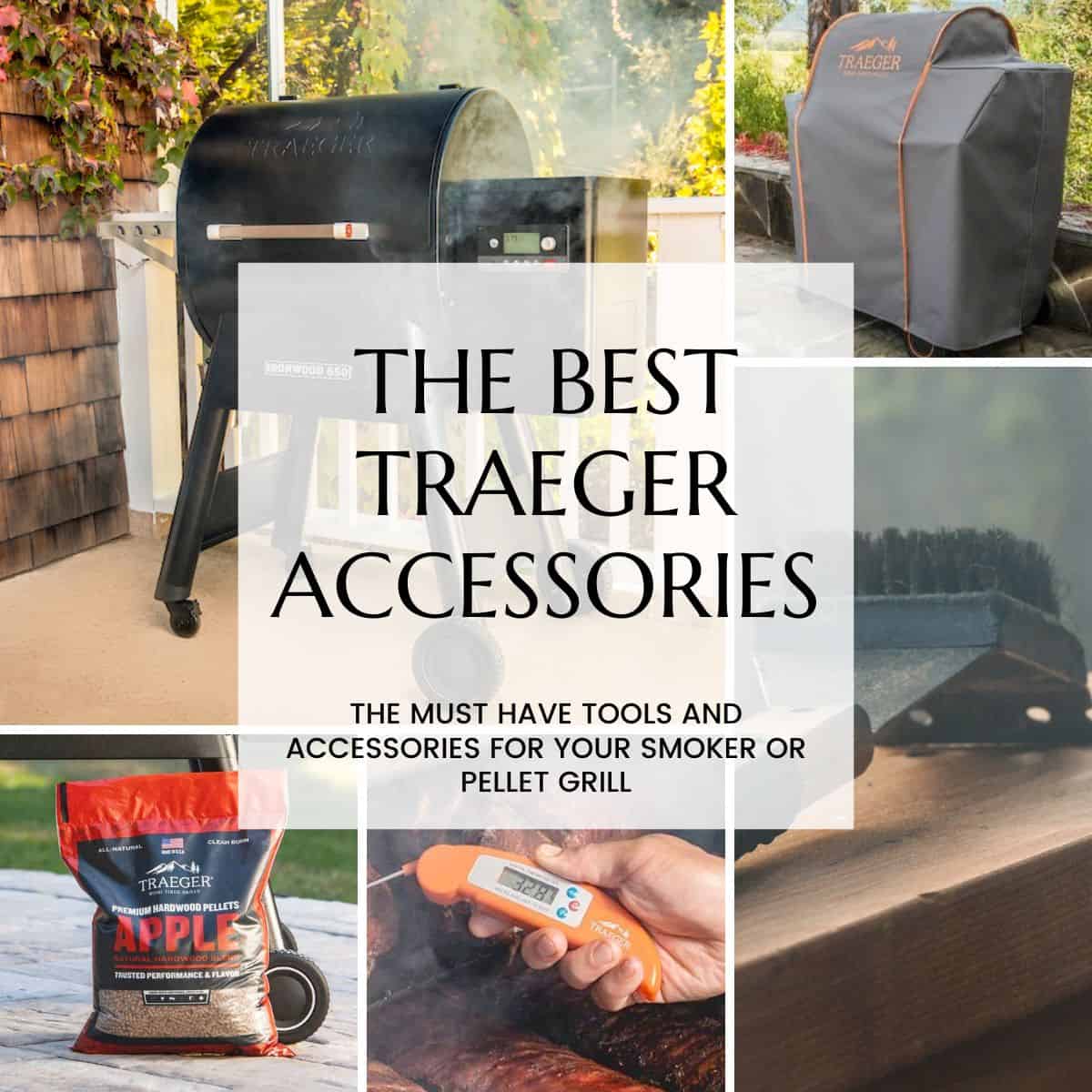 Jump to:
Disclaimer: Please note, some of the links on this page are affiliate links and I will earn a commission if you purchase through one of those links. I personally own and use every product recommended and love them enough to share with you.
When you own a smoker or pellet type of grill your meals are endless. My favorite thing about a Traeger Grill, however, is how versatile it is! Your traeger can be used to make everything from your favorite Texas BBQ and smoking large pieces of meat, to deliciously smoked vegetables, and even desserts like this cast iron peach cobbler.
Here are a few of more my favorite Traeger grill recipes:
I love a good gas grill or even charcoal grills, but there is something about a Traeger pellet grill that leaves me wanting to grill! With the right accessories you can elevate your smoking and grilling game. We personally own and love our Traeger Pro 34 but are looking to get our hands on the Ironwood 885 here soon which offers so many more amenities! Regardless of which pellet grill model you own, these accessories will make the perfect gift.
Aside from your grill or smoker, I would argue that a good meat thermometer is the single most important Traeger accessory when grilling (or cooking meat in general). Meat thermometers are imperative to keeping track of the internal temperature of your whole chicken, racks of ribs, or any other items you are smoking and ensuring both large cuts of meat and small pieces of meat are perfectly done every time!
We use and love our Meater+ wireless meat thermometer which can be kept in the protein as it is smoking. You can always keep track of the internal temperature as well as an estimate of how much time is remaining on the cook.
Now if you don't want a thermometer that stays in the protein, consider an instant-read meat thermometer. It is a quick check thermometer that you just open and insert into the meat for a quick, instant reading. I have personally found them to be a less accurate thermometer than the meater+ thermometer but as always, read the reviews on the instant-read thermometers to find a quality and accurate one.
Another necessity for grilling with a pellet grill - pellets! Apple, cherry, and hickory pellets are all good choices and very versatile! The smoke flavor you're going for may change based on the meats you're smoking, but in general we always have these pellets on hand.

As a side note - you may hear many people say they have never had an issue with generic brand pellets (which also happen to be less expensive), however, the only time I've had an issue with a build up of pellets was with a generic brand.
Consider investing in a dry pellet bin. There is nothing worse than going to grab your bag of pellets to find moisture got to them and they are swelled up and ruined. With this type of bin your pellets are protected, and you can scoop and dump into grill with ease of use.
Your grill game is taken to a whole new level with grill baskets. These are one of the best accessories for those who enjoy making vegetables on the grill like these Smoked Vegetables. Prep your veggies and toss right in the basket then toss right on the grill. There are holes that allow the smoke and flavor to creep into the vegetables without the vegetables from falling through the grill grates.
This also works for items like smoked shrimp, mussels, and other small items that are hard to place on the grill grates by themselves.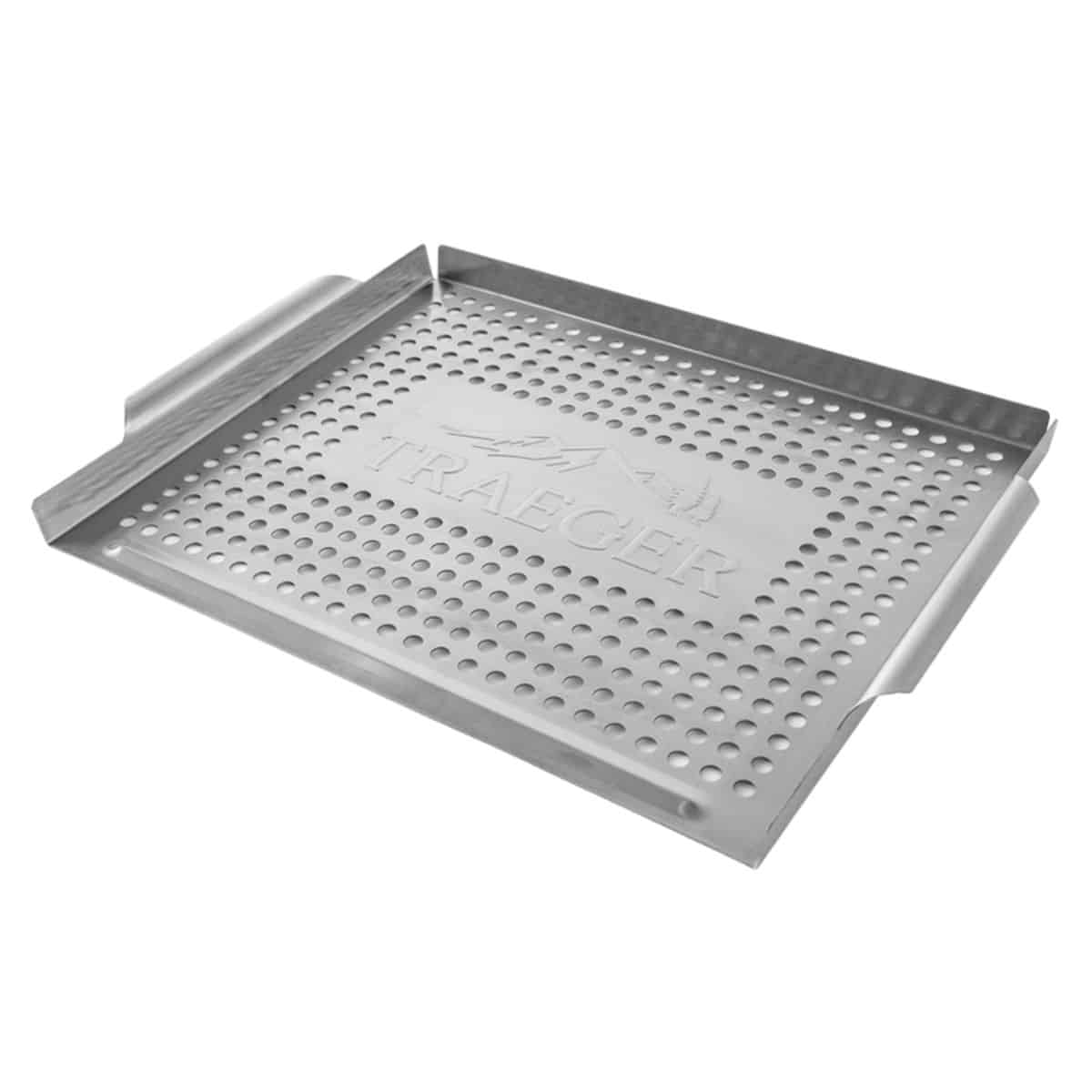 Use drip tray liners and grease bucket liners for an easy cleanup. Place these trays under the grill grates on the drip pan to collect any grease or food debris that fall through. Remove the tray, throw it away, and replace with a new liner. No scrubbing, and easy cleanup! Not only do these liners make for easy clean up but they also keep your pellet smoker in great condition.
The Traeger folding shelf is such a great accessory for convenience! It simply attaches to the front of your grill and provides more room for everything from prepping ingredients, resting meats, and holding drinks and grill tools during your outdoor grill time!
If you are the type who really enjoys making ribs, consider these rib racks. They are going to allow making a rack of ribs a lot easier when you have them placed on the grill. In addition, you'll be able to get more ribs on the grill all at once. These racks allow you to get the signature smoke ring by elevating the ribs during their smoke.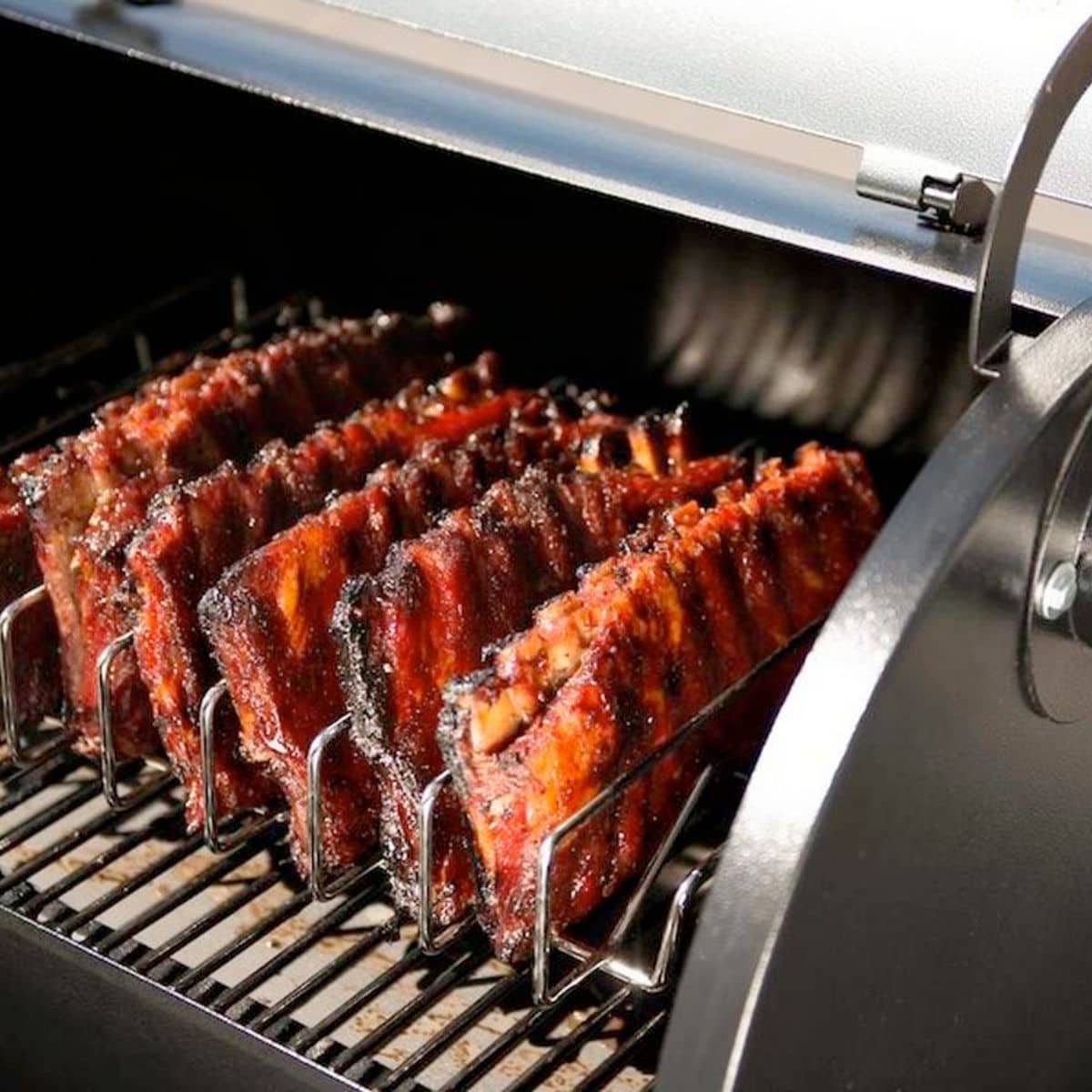 These grill covers are heavy duty and waterproof! They are great for protecting your pellet grill from all of the outdoor elements. We use a full-length grill cover in winter months to protect against the moisture and snow we receive!
Become a Traeger pro at cold smoking with these pellet smoker tubes! If you want to infuse that smokey flavor into smoking cheese or other cold smoked items, consider these tubes. Fill your tube with your preferred pellets and then you will light the tube and place on the grill. As it heats up it is going to infuse the smoke into your cheese or other items you are smoking.
More Basic Pellet Grill Accessories
All of the items above make the best gifts for the grill enthusiasts out there but here are some of the basic Traeger accessories that even the most novice of grill masters should have on hand:
Grill Tools + Grill Brushes - From grilling tongs and spatulas to BBQ shears and cleaning brushes, these are basic necessities that any griller needs to have on hand!
BBQ Knives - Having a good pair of BBQ knives helps you get that perfect across the grain slice of meat.
Meat Injector - Injecting moisture (like apple juice or broth) into the meat during a long cook will help to keep it moist and delicious as it smokes!
Basting Brush or Basting Mop - I swear by basting your Traeger Smoked Chicken Breast with BBQ sauce during the last 5 minutes of the cook.
Grill Light - If you're outdoor grilling area is not well lit, this is great to have on hand to help you see what you're doing!
Heat Resistant Gloves - These heat resistant gloves are very handy, and will help you from getting burned while slicing a delicious cut of beef brisket that's been smoking for hours or pulling a perfectly smoked pork butt - though you can also use bear claws for a job like that!
Additional Supplies For Your Grill
These are a couple basic supplies and products that I recommend keeping on hand for a convenient (and delicious!) grilling experience at any time!
Paper Towels
Heavy Duty Aluminum Foil
Conclusion
While these accessories can certainly make smoking on the Traeger (or pellet grill) easier, they are not a necessity to achieve delicious smoked and grilled foods that everyone will love!
I highly recommend starting off with a good meat thermometer and a basic set of grill tools (spatula, tongs, etc.) and investing in the rest if and when it works for you!
If you use any of the above accessories (or any that I didn't list), I'd love to hear about your favorites below! In the meantime, have fun cooking up some of these delicious Traeger recipes!